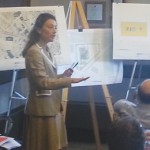 The long anticipated project to bring the FBI regional headquarters to Chelsea passed another significant milestone this week, as the 250,000 s.f. office building to be constructed on Everett Avenue, between the Wyndham Hotel and the MGH Health Clinic, received the approval of the Zoning and Planning Boards.
The approvals came in a whirlwind double meeting of both boards, which considered the application jointly in order to speed things up and prevent another month's delay.
"This is a game changer," said City Manager Jay Ash at the joint hearing.
Patricia Simboli, principal of ACS Development, presented the development plans to a packed hearing room in City Hall.  She told those assembled that the building would have one floor of parking underground, a lobby and more parking on the first floor, and then eight floors of office above it. The building would also be surrounded by surface parking, and could be expanded or another building built, if the need arose.  She described the project as being built for a "federal user."
"We've all signed confidentiality agreements, so I can't divulge all the details at this time," revealed Simboli, who did not utter the term FBI during her 45-minute presentation, but never corrected all those who did.  "What I can tell you is that we are proud to be bringing this federal user to Chelsea, and proud to be building a spectacular office building that will complement all the other development that has made the Everett Avenue area so successful."
Simboli went on to provide details of the development.
The eight floors will have 14' clearances, meaning that the building will have the size of a typical 12 story building. It is the first Chelsea office building to be that tall, and the first to have parking underground. More than 400 people are expected to work there, which is actually fewer people than a typical 250,000 building.
Simboli said that means there will be less traffic impact.
The plans Simboli was able to share with the boards showed a rectangular building whose long side paralleled Maple Street. A high security fence, similar to that of the MITC Building on Arlington and Spruce Streets, will encircle the property. The main entrance will be off of Maple Street, with employees entering on Beech Street. A minor emergency exit will be designed for Everett Avenue.
"Those entrances and exits ensure that almost all of the traffic generated will be directed onto secondary streets and then into intersections that can handle the extra traffic," Planning and Development Director John DePriest said after the meeting.  DePriest is also the City's Zoning Board chairman, and has overseen the permitting process, a point Simboli recognized.
"We have a lot of people to thank for getting to this point," she said. "John DePriest and Maggie Schmidt of the Planning Department have been great, as have all of the board members we've interacted with. And Jay Ash has been a huge asset to us, sharing both his development experience and political expertise to help us win this highly competitive bid, the largest ever for this region."
Ash returned the compliments when he took the floor.
"Lesser developers would have given up on this project years ago and proposed a single story retail development or a two story office complex," he said,  referring also to Anthony, Sr. and Anthony, Jr., who have shared the project responsibilities with Patricia and who have together developed more than 250,000 s.f. of office space already in Chelsea. "The Simbolis have once again demonstrated their talents and commitment to Chelsea by hanging in there and working so very hard to bring what is a truly remarkable project to Chelsea."
In her presentation, Simboli said that the project would take almost three years to complete – nine months for design and 24 months for construction.  In response to a question from Rich Pedi of the Carpenters Union, Simboli said the project would be a prevailing wage job.
"I'll ensure that local residents, including kids looking to get their start in the union trades, will be on the project," said Pedi, as part of his inquiry about the construction job being a union one.
Prior to the vote by the respective boards, Ash congratulated the boards, the Economic Development Board and others, including his staff and the City Council, who have contributed to the development environment that made the FBI select Chelsea for what he calls "a crown jewel" in any community's development portfolio.
"Without first doing the Wyndham Hotel, and the Residence Inn, and all that has happened at the Mystic Mall, and the residential project across the highway on Sixth Street, the FBI project wouldn't be possible," he said. "You all deserve great praise and should be quite proud of the development environment we've created here; fair and cooperative with the development community, while making sure that the very best projects go forward for Chelsea."
Simboli suggested that further refinements were required of the proposal, and that she would work those through the City to ensure the final project plans continued to represent what City officials want to see happen.
"We're ready to continue to act," said Rick Pantano, Chairman of the Economic Development Board, who Ash singled out for his work on the Everett Avenue Urban Renewal District that has attracted so much development activity.
Ash closed out his comments by reminding those in attendance what was once on the 5-acre parcel prior to the City adopting its urban renewal plan.
"Remember that there used to be a used car parts business with junk cars in the back, an old motor storage building that was falling down and was about to be ordered down by the City, and a janitorial supply company," he recalled. "Tonight, we're talking about permitting a project that every other city in New England wishes it had coming to it. We've come a long way, through much hard work. There's plenty to be proud of and even more that we can look forward to happening."
Read the rest of this entry »

Some residents and city councillors are demanding a more visible police presence around City Hall following two shooting incidents this week, while at the same time, detectives from the Chelsea Police Department press for an arrest in a daylight shooting last Saturday across from City Hall that injured an innocent bystander.
Fay Square – at the corner of Chestnut Street and Washington Avenue – was rocked last Saturday around noon when shots rang out and two people were hit with bullets. All injuries were non-life threatening and police said this week that they have suspects in mind, but that the primary victim in the shooting is not exactly cooperating.
Another victim – just a man walking down the street some distance away – was struck by a stray bullet in the lower leg.
"We have our suspect in mind," Police Chief Brian Kyes said. "We're working on a full court press, and hoping the victim will cooperate."
That was followed up on Tuesday night by reports of gunshots being fired in Cary Square – which is up Washington Avenue from Fay Square.
Kyes said that at 8 p.m., there was a report of two young men in Cary Square shooting at one another for some unknown reason. There were no reports of injuries in the shooting, and no one in the neighborhood called to report the extensive gunfire.
The report actually came from a passer-by who witnessed the shooting from her car while driving home to Everett. She phoned Chelsea Police once arriving at her Everett home.
When police arrived on the scene Tuesday night, though there had been no local reports to the police, they did find several people in the area who reported hearing the gunshots.
Police recovered ballistics evidence from the scene and are tracking down surveillance video from several different vantage points.
"Some names of potential suspect have already surfaced," Kyes said of Tuesday's incident.
In Saturday's shooting, sources told the Record that the primary victim was wearing a court-ordered ankle bracelet. That would indicate that he is court-involved as well, perhaps recently let out of jail and on closely monitored probation.
He was shot twice, once in the chest and once in the shoulder.
The scene frightened many in the area, as media reports indicated that the bloody victim stumbled into a hair salon across from City Hall asking for help and terrifying customers in the busy salon. Many in the salon reported that they were scared the shooter was going to come into the salon and finish off the victim in front of everyone.
Afterward, reports indicated that the victim made his way across to the Central Fire Station where firefighters treated him for his injuries before an ambulance whisked him away to Mass General.
He is expected to survive and Kyes said they believe the victim knew his attacker.
The shooting also riled Chelsea Firefighters, whose union put out an alert for members after Tuesday night's shooting, warning them to be extra vigilant when responding to calls from the Washington Avenue area.
Both incidents – as well as previously reported and unreported incidents – have strengthened a call by some city councillors and residents for walking patrols during the evening hours in the City Hall area.
Last week, prior to the shootings, District 5 City Councillor Joe Perlatonda called for more police presence in the area. He indicated at the time that conditions on the streets are not totally reflected in official crime statistics.
Other councillors, including Perlatonda, pointed to an 11-0 vote taken earlier this year on a motion that called for walking patrols on Broadway – as well as monthly crime reports to the Council.
"Enough is enough," said Perlatonda on Wednesday. "I hear we have another shooting incident to follow up Saturday's. Last Saturday you have an innocent guy walking down the street at noon who got hit with a bullet. This has got to stop and we have to do something about it. People are afraid to go out after 8 p.m. in the Central Business District. I drove through Bellingham Square at 8:15 p.m. last Monday and no one was there. Everyone I talk to is scared."
Read the rest of this entry »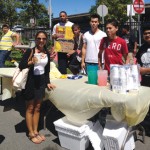 On a hot day in late July many Chelsea Residents were pleased to see over 80 Chelsea youth selling Lemonade throughout the city to benefit the Jimmy Fund. Students involved in the REACH program in 7th-12th grades planned the logistics and the business aspects for their "Lemonade Day" during the 6 week REACH summer program at Chelsea High School. Students learned how to market and advertise their business, created unique lemonade recipes, planned their locations and budgeted for their big day. Students worked as a team on the "Lemonade Day" and raised $500 for the Jimmy Fund which was donated through the Red Sox telethon. When the REACH staff member called in to give $500 the volunteer at the Jimmy Fund commented "I am near tears that these kids did this!"
An 8th grade student, Julianna Valle from the Brown School wrote about her experience with REACH Lemonade Day in the REACH Summer Newsletter. Julianna wrote:
Chelsea REACH summer is in the high school. Our group is selling lemonade at City Hall. Don't worry, it's going to be FRESH lemonade. The point of doing this is because we are giving some money to a non-profit called the Jimmy Fund for sick children who need support. We are also doing this for fun while learning how to run a small business. In class our group talked about our lemonade stand. We went to stores like Stop and Shop, the Restaurant Depo and even the Produce Center to check on the best prices for the ingredients. We talked about how to get people's attention so they would come to our lemonade stand and not one of the other stands because the groups are competing to see who can raise the most money. We do this every year. We try to remember, it's not for us, it's for the community!
REACH wants to thank everyone who bought a lemonade on Lemonade Day and also thanks Community Suffolk for negotiating an excellent price with the student for the lemons!
Read the rest of this entry »

The Chelsea High football team showed a lot of good signs for the coming 2013 campaign in their initial pre-season scrimmage Saturday morning against West Roxbury at Chelsea Memorial Stadium.
"Overall things went well," said CHS head coach Mike Stellato. "The team came out fired up and ready to play. It was nice to hit someone with a different-color jersey for a change after only intra-squad play for a week."
The contest was of the controlled-scrimmage variety which the Red Devils won, three touchdowns to two, on the strength of a trifecta of scoring passes by junior quarterback Mark Anthony Williams covering distances of 35, 40, and 35 yards. Junior wide receiver Adrial Rodriguez was on the receiving end of two of the TD strikes and junior running back Kalvin Duran hauled in a third.
"Mark did a nice job directing the first offense and he threw the ball well," said Stellato.  "It was an overall total team effort and a good performance for the first scrimmage of the season."
The coach noted the strong showing turned in by the offensive line which "did a nice job of blocking."  Stellato in particular cited the fine play of senior lineman Jose Romero.
On the defensive side of the ball, Stellato mentioned the strong efforts of junior outside linebacker Christiam Calix and senior defensive end Jose Martinez. "Both Christian and Jose did a nice job for us," noted Stellato. "The team was very aggressive on defense, which was good to see, but we still have a lot to work on at this stage of the season."
The Red Devils' second and final  pre-season contest is set for tomorrow (Friday) evening with a tri-scrimmage at Boston English in which Marian of Framingham will be the third opponent.
Chelsea's next encounter will be the regular-season opener which is set for Friday, September 13, under the lights at the Stadium against St. Joseph's of Newton. The stadium press box will be dedicated to the late Arnie Goodman, who for decades was the Voice of the Red Devils. The CHS players will be wearing special "AG" decals on their helmets for the occasion.
Read the rest of this entry »

School either already has begun or will be back in session shortly in communities  all across the state — and that means motorists who have become accustomed to child-free streets during the morning commute once again must become eagle-eyed and on the lookout for children and school buses on our roadways.
The start of a new school year always is a treacherous time both for motor vehicle operators and children alike, who once again must become accustomed to sharing the road with each other  during the busiest time of the day when everyone is in a hurry either to get to work or  to school.
For motorists, this means slowing down, especially when a school bus or school crossing is in sight. We can assure every one of our readers that no one wants to be the driver of a car that killed a young child, even if that child happened to be darting into the street.
So please drive safely and be extra-vigilant for small children.
Read the rest of this entry »

The Chelsea Police Department continued to target street level drug dealing this week. As part of a continuing on-going undercover operation, the department working on tips from the community made the arrest Thursday evening.  Based on these tips and surveillance, CPD officers and State Police Detectives made purchases of narcotics by utilizing undercover police officers from a Tudor Street home. As a result, one local resident was arrested and a large amount of Heroin and cash seized. Police also impounded two vehicles believed to be used in the illegal operation and have begun forfeiture proceedings on those vehicles. Olvin Lopez, age 29 of 36 Tudor Street was charged with Trafficking in Heroin and various other drug related offenses. Chief Kyes stated, "These arrests were made with the help of the community and their willingness to provide investigators with detailed information" He added, "The Chelsea Police will continue its aggressive measures against drug dealing in the city utilizing all available resources"
Chelsea residents are reminded they can provide information anonymously to the Police Department by  calling the 24 hr Crime Stoppers TIP line at 617-466-4880. Anonymous web tips can also be submitted right from the Police Departments website at  HYPERLINK "http://www.chelseapolice.com" www.chelseapolice.com.
Read the rest of this entry »
Ruth Goldberg
Of Revere, formerly of Chelsea
Ruth (Frim) Goldberg of Revere, formerly of Chelsea, died on Monday, August 26.
She was the beloved wife of 60 years of the late Jack Goldberg; devoted mother of Alan Goldberg and his wife, Lynne Goldberg and Sandra Abramson and her husband, Dr. Mitchell Abramson; loving daughter of the late Morris Frim and Gertrude (Kaplan); dear sister of the late Albert Frim and Melvin Frim; loving grandmother of David Goldberg and his wife, Allison, Jeffery Goldberg and his wife, Alisa, Daniel Goldberg and his wife, Sarah, Jason Abramson and Jennifer Abramson; great grandmother of Lexi, Levi, Drew and  Max.
Services were held at the Torf Funeral Chapel, Chelsea. Interment was at New Tifereth Israel Cemetery, Everett. Donations in Ruth's memory may be made to the Chelsea Jewish Nursing Home, 17 Lafayette Ave,. Chelsea, MA 02150. Memorial Observance will continue today, Thursday, from 1 to 8 p.m. at the residence of Sandra and Dr. Mitchell Abramson.  Visit www.torffuneralservice.com for guest book and directions.
(W/PHOTO-emailed)(W/FLAG)
-
Thomas Bullock
Member of Chelsea Elks, Worked for Airline Industry
Thomas E. Bullock, a longtime resident of Chelsea, passed away at Annemark Nursing and Rehabilitation Center in Revere on August 22 after a brief illness.
Born in Boston, for over 35 years, Tom worked on the ramp for Butler Aviation and then in the same capacity for five years at Signature Airlines. A United States Navy veteran of the Korean Conflict, he was also a member of the Chelsea Elks.
He was the devoted husband for 60 years of Mary (Godfrey); beloved father of Loreen Bauer of Manchester, New Hampshire, Thomas Bullock of Atlanta, Georgia and the late Mary Ellen Rivera; brother of Florence Clarke of Boston and Walter Bullock of Ft. Meyers, Florida; cherished grandfather of Paul Bauer and his wife, Jennifer, Heather Martin and her husband, Brett, Jonathan Bauer, Joseph Rivera and his wife, Jessica and Thomas Martinez, all of New Hampshire, Christina Martinez of Belchertown and the late Jennifer Bauer Travassos. He is also lovingly survived by his great grandchildren: Elena Travassos, Vanessa Rivera and Isaac Bauer, all of New Hampshire as well as his son-in-law, Paul Bauer and his wife, Barbara of New Hampshire and by many nieces and nephews.
At his request, services were private. To send a message of condolence to Tom's family, please visit www.smithfuneralhomes.com
(W/PHOTO-emailed)
-
John Gravallese, Sr.
Chelsea Police Officer and All Around Great Guy, Member of Chelsea K of C and Salvation Army Board
John R. Gravallese, Sr., a longtime resident of Chelsea, passed away unexpectedly at home August 22. He was 63 years old.
Born in Boston, he was a member of the Chelsea Police Department for 38 years where he held the position of Firearms Instructor as well as Senior Patrolman. He was a member of the Chelsea Knights of Columbus Council #83 a board member for the Salvation Army and was an overall great guy to both his family which included foster children as well as his Brothers in Blue.
He was the devoted husband of Teresa (McComiskey); beloved father of John R. Gravallese, Jr. of Billerica, Danielle Stone and her husband, Chris of Saco, ME, Dominique, Nicholas and Georgieana Gravallese, all of Chelsea; brother of Anne Crawford and her husband, Richard of Melrose and Marygrace Gravallese-Festa and her husband, Gerardo of East Boston; cherished grandfather of Gianna Stone, Amiliana Gravallese, Samuel Stone, Laylah-Rose Gravallese and Sophia Gravallese.
Funeral arrangements were by the Smith Funeral Home, Chelsea. Interment was  at Woodlawn Cemetery, Everett.
To send a message of condolence to John's family,please visit www.smithfuneralhomes.com
-
Joseph Goodrich
Retired Auto Mechanic
Joseph P. Goodrich of Revere, formerly of Chelsea, passed away at the Life Care Center of Stoneham on August 21.  He was 72 years old.
Born in Chelsea, the son of the late Clarence P. and Lillian M. (McCarthy) Goodrich, as a child, Joseph attended St. Rose School in Chelsea.
He was the beloved husband of Cynthia "Jean" (Wry) Goodrich, with whom he shared 42 years of marriage.  Together they settled in Revere and have been Revere residents for over 40 years.
A dedicated automotive mechanic, Joseph retired after 45 years of service.  Throughout the years he worked at several automotive garages, servicing numerous cars and trucks.  He was a social member of the Beachmont VFW Post 6712 in Revere.
Joseph was the devoted father of Lillian K. Goodrich of Revere; dear brother of Margaret "Peggy" Rivera of Chelsea, Kathleen Iannuzzi of Georgia and the late Thomas Goodrich, Robert Goodrich and Dorothy Butts; brother-in-law of Rose Goodrich of Medford and is also lovingly survived by many nieces and nephews.
Funeral arrangements were by the William R. Carafa & Son Home for Funerals, Chelsea. Interment was at Puritan Lawn Memorial Park in Peabody.  In lieu of flowers, donations in Joe's memory may be made to the American Cancer Society, 30 Speen St., Framingham, MA 01701.
-
Richard 'Rickey' Nardone
Lifelong Chelsea Resident
Richard J. "Rickey" Nardone,  a lifelong resident of Chelsea, passed away at the Whidden Hospital in Everett on August 21.  He was 66 years old.
Born in Everett, the son of Paul P. Nardone of Chelsea and the late Edith L. (Bernard), for a number of years, Rickey worked as a floor installer for the floor covering industry.  He retired at an early age due to declining health.
He was the dear brother of Robert P. "Bobby" Nardone and his wife, Aggie of Chelsea and the late Paula M. Nardone; uncle of Robyn Arruda and her husband, Eddie of Georgetown.  Rickey is also lovingly survived by his great nephew Cameron Nickell and his wife, Caitlin of Melrose and his great niece Chloe Arruda of Georgetown.
A Funeral Mass was celebrated at the Our Lady of Grace Church, Everett/Chelsea line. Interment was at Holy Cross Cemetery in Malden.  Funeral arrangements were entrusted to the William R. Carafa & Son Home for Funerals in Chelsea.
-
Edward Paul Korzeniowski
Retired Construction Laborer
Edward P. "Eddie" Korzeniowski of Revere passed away on Monday, August 26 at his daughter's home in N. Andover surrounded by his loving family.
Born in Chelsea, Eddie was the son of the late Karol and Antonina (Paszkowska) Korzeniowski.  He attended Chelsea Public Schools and graduated from Chelsea High School in 1945.  Shortly after high school, Eddie enlisted in the US Army on October 4, 1946.  He served overseas in Japan for 13 months during World War II and received the World War II Victory Medal and the Army of Occupation Medal.  Eddie was honorably discharged on February 20, 1948.  Returning from the service Eddie worked as a construction laborer for various construction firms.  He retired at an early age due to medical problems.   He ended his career at the Strager Counter Co. in Revere.
Eddie was the beloved husband of the late Virginia M. "Ginger" Korzeniowski.  Together they shared 57 years of marriage before her death in 2012.  He was the devoted father of Paul K. Korzeniowski and his wife, Clare of Sudbury, Joyce and her husband, Anthony Arrigo of N. Andover, Diane J. Korzeniowski of Revere.  Dear brother of Mary Pinkman of Chelsea, Charles Korzeniowski and his wife, Alice of Rockland, Helen Pierce of Chelsea,  and the late Michael Korzeniowski; brother-in-law of the late Lillian Korzeniowski, James Pinkman and Linwood Pierce and is also lovingly survived by five grandchildren: Christine M. Arrigo, Anthony E. Arrigo and Edward J.P. Arrigo, all of  N. Andover, David E. Korzeniowski, and Mary B. Korzeniowski, both of Sudbury and by many nieces and nephews.
Funeral from the William R. Carafa & Son Home For Funerals, 389 Washington Ave. ,Chelsea on Saturday August 31 at 8:30 a.m. followed by a Mass of Christian Burial at St. Stanislaus Church, 163 Chestnut St., Chelsea at 9:30 a.m.  Relatives and friends are kindly invited to attend.  Visiting hours in the Funeral Home are Friday from 4 to 8 p.m. Interment will be in Woodlawn Cemetery in Everett.  For those who wish donations in Eddie's memory may be made to the M.S.P.C.A, 350 S.Huntington Ave., Boston, MA 02130.
Read the rest of this entry »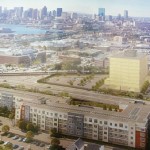 The developer of the proposed Federal Bureau of Investigation (FBI) regional headquarters on Beech Street will tout the prestige and 'firsts' that the building will bring to Chelsea when they go before the Zoning Board of Appeals (ZBA) and Planning Board this coming Tuesday, Aug. 27th.
In filings deposited at the City's Planning Department, ACS Development principal Patricia Simboli said the proposed building would not only be the tallest building in Chelsea at 150 feet tall, but also would become one of the most notable landmarks for the City to those inside and outside Chelsea.
She wrote that approving the plans would lead to the tangible belief to anyone seeing the new building perched alongside Rt. 1 that Chelsea is absolutely a different place than it once was.
"The building will be home to the largest federal lease award in the history of the New England region," read the filing. "It is a significant building for any community and will be the focus of much media attention, both during construction and once completed and occupied. It will offer several 'firsts' in the City of Chelsea, further supporting the belief and image that Chelsea is changing. Young people in Chelsea, residents, business community, City officials, and state and federal representatives can all take pride in the City of Chelsea for supporting and encouraging this significant project and lease award."
Among the first detailed in the filing were:
•the first LEED Silver Certified office building
•the tallest building in Chelsea, surpassing the Broadway Glen residential tower on Broadway
•the first office building to offer below grade parking
•the first major office construction since 2001
•the first major office building designed and constructed specifically for the federal government
•the first time Chelsea has competed with Boston and succeeded in relocating a major federal agency
Additionally, Simboli stated that the FBI would be bringing a good bit of business to the hotels, restaurants and other businesses next to the proposed building – a building that is described as being a 24-hour a day operation.
"The new influx of employees will support the surrounding retail and banking facilities," she wrote. "The tenant will attract travelers and guests for the hotels. It will also have a positive impact on the image of the City and encourage new office users, governmental and private, to consider Chesea as an office location."
The details in the filing are somewhat vague, as the FBI isn't allowed to file specific floor plans and office layouts due to security concerns. Also, nowhere in the filing does Simboli mention the FBI, though everyone knows the vague "federal tenant" being spoken about is the FBI.
ACS Development will retain ownership and maintenance responsibilities of the proposed building and land, and would enter into a 20-year lease with the FBI.
The building would be about 150-feet tall and will have nine stories – one story on the first floor for parking and eight floors of office layouts. There will also be one level of underground parking. The total building size is 240,000 sq. ft. on 5.1 acres of vacant land. There are 420 parking spaces designated on the plans, far exceeding the number required.
A traffic study showed that there would be an average increase of 1,456 trips per day in the area – with 206 in the morning peak hours and 197 in the afternoon peak hour.
Site improvements are predicted to be extensive and estimates for the work came in at $2.45 million. The most expensive piece of those costs will be to complete the large landscaping plan, which total $285,000.
The construction schedule looks to have design taking one year, site improvements taking 14 months, core construction 16 months and tenant fit-out at 10 months. The total construction period was estimated to take almost three years (32 months), pegging an opening for June 2016.
It was estimated that 400 construction jobs would be created in the project, and Simboli wrote that Chelsea residents are encouraged to apply for those jobs when, and if, the time comes.
The building will be situated closest to Everett Avenue with an entrance at the corner of Maple Street and Everett Avenue. The entrance will have high-security and those not passing muster will be sent packing in a special 'turn-away' driveway that exits on Everett Avenue.
That also points to the overall fact that the proposal is for a high-security law enforcement headquarters. While the building might be a point of pride for Chelsea, it won't be a place where the red carpet is rolled out and tours are offered.
"There are no proposed public use areas designated within the confines of the project site, as such would violate the security requirements of the tenant," read the filing. "The proposed tenant occupancy of the building and use of the site are not conducive to any portion of the site becoming common or public land."
The joint ZBA/Planning Board meeting will take place at 6 p.m. on Aug. 27th.
Read the rest of this entry »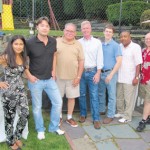 Saritin and David Rizzuto hosted a barbecue party and fundraiser Saturday to benefit the East Boston Social Centers. Pic­tured at the gathering are Saritin Rizzuto, Attorney Mark White, D. Bruce Mauch, Lynn City Council President Timothy Phel­an, Councilor-at-Large Brian Hatleberg, Councilor-at-Large Leo Robinson, and Barry Kirshon.
Read the rest of this entry »